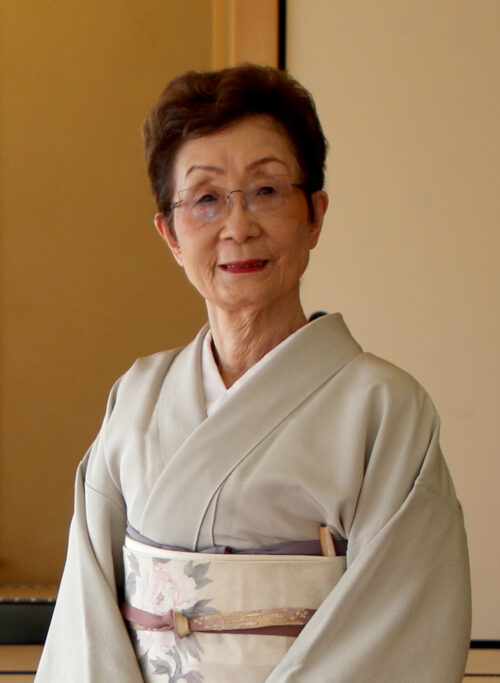 Kimiko Gunji
Kimiko Gunji is Professor Emeritus of Japanese Arts & Culture in the School of Art & Design, University of Illinois at Urbana-Champaign. Gunji joined the Illinois faculty officially in 1979 but was assisting teaching Japanese arts and culture classes with Professor Shozo Sato since the late 60s while she was a graduate student in Library and Information Studies. She taught courses in Zen aesthetics, Japanese tea ceremony, and Ikebana (Japanese Flower arrangement) until 2011.  
Coinciding with Sato's retirement in 1992, the original Japan House was slated to be razed by 1998. Gunji spent the next 2 years raising funds from private donors, grants, and international support to build a new facility on south Lincoln Avenue. A new Japan House, surrounded by traditional Japanese gardens, was dedicated on June 18, 1998, and Gunji was named director. 
Gunji also worked for the Campus Honors Program (CHP) from 1989-1998 as Assistant Director for International Affairs. In this position, she developed an Inter-Cultural Study Tour program in which she took groups of students throughout the years to learn more about Japan through personal experience and explorations – traveling throughout Japan and visiting such places like Urasenke Tea School and Ikenobo Ikebana in Kyoto, Japan. Through the Campus Honors Program, she also established an ongoing program, the "Ambassador to Japan Program," in which a committee selects an outstanding CHP student to live in Japan for one month with the support of the Yanai Rotary Club. This program has been in existence over 20 years.   
Gunji is a Full Professor at the Ikenobo Ikebana School (Japanese flower arranging) in Kyoto, Japan, and she is Assistant Professor for the Urasenke Tea school and holds the tea instructor name, or chamei, Souki, from the Urasenke Tea School and serves as President of the Urbana-Champaign Association of Chado Urasenke Tankokai since 1992 which she initiated and established. Through this Tankokai, she has taught hundreds of students the Way of Tea, many of which have continued their studies beyond their days spent on this campus. In 2011, she worked with staff at the Anderson Japanese Gardens in Rockford, Illinois. Through her efforts she developed annual Japanese cultural programs, began offering seminars and workshops, and also established a tea study group and has been teaching tea twice month since 2015.  
Professor Gunji has received numerous awards for her teachings from the University of Illinois, as well as for her contributions to promote Japanese arts and culture from various organizations. She received UI Campus Award for Excellence in Undergraduate Teaching, University of Illinois-Urbana-Champaign, April 28, 2003, and UI Alumni Association Educator's Award sponsored by UI Alumni Association, April 13, 2003.  
The most distinguished award she received was the "Order of the Rising Sun" (Kyokujitsu-shō) from the Japanese Government on June 6, 2012, which was presented to her by the Japanese Emperor. This order was established in 1875 by the Emperor Meiji and is bestowed upon individuals who have shared distinguished and significant achievements in international relations and promotion of Japanese culture.  
Recently, she received the "Certificate of Appreciation," from Dr. Genshitsu Sen, 15th-generation Grand Master of the Urasenke Chado (the way of tea) Tradition for promoting the understanding of the Urasenke Way of Tea and cultivating Chado practitioners at the University of Illinois on the occasion of the Twentieth Anniversary of the Urbana-Champaign Association of Chado Urasenke Tankokai on April 23, 2023. This event welcomed over 80 practitioners of tea from China, Japan, Hawaii, Oregon, New Mexico, Texas, Michigan, Ohio, New York, California, Colorado, and throughout Illinois. 
Currently, she continues to teach both Japanese traditional arts and culture to students as well as to the community members at Japan House at the University of Illinois Urbana-Champaign. She also gives lectures/demonstrations on Japanese arts and culture at various colleges and universities as well as many different organizations throughout the United States. Most recently, she has been participatory in teaching workshops that focus on the health for the mind, spirit and body. She has been a strong promoter for a peace and a firm believer of good communication with one's sincere kokoro. For the last 40 years, she has been introducing the Japanese word, kokoro, which encompasses multiple meanings including "mind," "heart," and "spirit," and have been conducting seminars to cultivate kokoro in various fields. In August 2023, she will be introducing the Japanese concept of kokoro at Frank Lloyd Wright's Taliesin Preservation in Spring Green, Wisconsin with garden specialist, Tim Gruner from Anderson Japanese Gardens. 
Gunji is an author of "The Art of Wagashi: Recipes for Japanese Sweets that Delight the Palate and the Eyes," which is on its second printing. This book was written to share the art of Japanese sweet making by making it accessible to all by using ingredients that were readily available outside of Japan and sharing simple traditional techniques and methods. She is also the author of online text, :Chado and Kokoro," which is used for University of Illinois classes taught through Japan House. She also has two books in progress, "Kokoro Insight: Tea and Kokoro," and "Wagashi: Season by Season," a follow-up cookbook that focuses on the importance of considering seasonality in Japanese sweet-making.