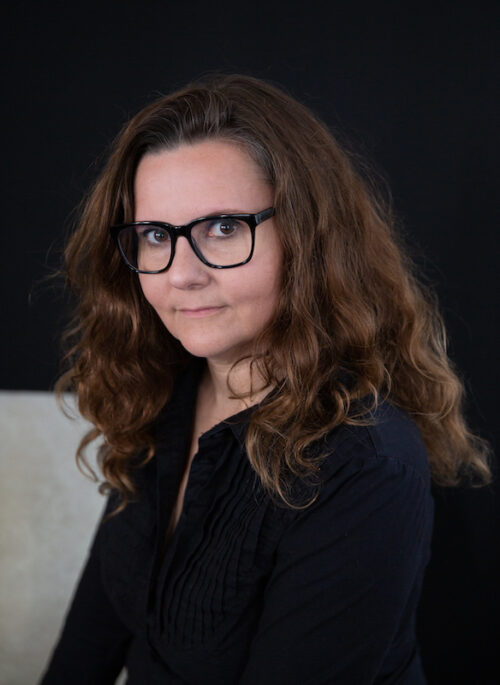 Mary Anna Pomonis
Distinguished Legacy Award
Mary Anna Pomonis is a Los Angeles–based artist known primarily for her abstract paintings utilizing commercial airbrush tools as referents to both masculine and feminine power. Pomonis has exhibited in galleries and institutions including the Western Carolina University Museum of Fine Arts; the Torrance Art Museum; Krannert Art Museum at the University of Illinois; the Lancaster Museum of Art and History; the Museum of Contemporary Art, Los Angeles; and the National Theater of Northern Greece. Her artwork has appeared in the Los Angeles Times, the Huffington Post, the New York Times, Whitehot Magazine, and Artweek. Additionally, her curatorial projects and essays have been featured in museums and gallery spaces throughout southern California. She is the founder and a contributing member of the artists' collective the Association of Hysteric Curators (AHC). The AHC has been in the national and international press as a result of its social practice projects and activism in the Los Angeles area. Pomonis currently is an assistant professor of art at California State University at Fullerton (CSUF). She is coeditor, along with Annie Buckley, of Radical Actions: From Teaching Artists to Social Practice, a social practice website. She currently is the director of the CSUF chapter of the Prison Arts Collective, where she works with incarcerated women in California.
In 2022–23, Pomonis will be included in Transcendent at Louis Stern Fine Art in tandem with the Desert Transcendentalist Painting Group exhibition at the Los Angeles County Museum of Art curated by Michael Duncan. Additionally, Pomonis is working with Greek American playwright and director Maria Cominis on designing projections and set pieces for Cominis's production The Women of Zalongo, which is funded by the National Endowment for the Arts. Pomonis will also have a solo show at the Eastern Washington University Gallery of Art with a catalog essay written by Karen Moss, the former deputy director of exhibitions and programs and curator of collections at the Orange County Museum of Art.
Pomonis is currently represented by the Ladies' Room Los Angeles and Seer Gallery in Elmhurst, Illinois.