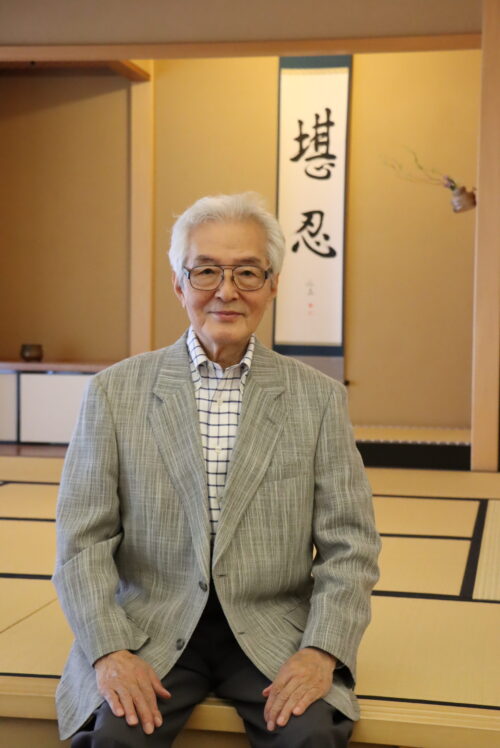 Shozo Sato
Illinois Arts Legacy Award
The impact of Shozo Sato's great legacy has been felt for more than 50 years in the College of Fine and Applied Arts, on campus, across the greater Champaign-Urbana community, nationally, and internationally. Arriving at the University of Illinois in 1964—originally as a visiting artist invited by the head of the Dance Department, Margaret Erlanger—Sato stayed on campus and became a professor in the School of Art and Design, an artist in residence at Krannert Center for the Performing Arts, and founder of the original Japan House.
Growing up in Japan during World War II provided Sato with formative experiences that provided the inspiration for his life's work of bringing cultures together through art, and the College of Fine and Applied Arts became the hub of many of his efforts. Sato is a master of the highest order of Japanese tea ceremony, flower arranging, and black ink painting. He has taught these traditional Japanese art forms, as well as calligraphy and kabuki, since arriving on campus and continues to do so regularly in retirement.
In 1975, Sato converted a university-owned Victorian house on California Street into the original Japan House, which gave him the ability to teach traditional Japanese arts and culture in a traditional Japanese setting. While Japan House has moved locations and is currently under the leadership of former student Jennifer Gunji-Ballsrud, it continues to provide a place for students and community members to experience and explore Japanese traditional arts and "gain a deeper sensitivity towards diverse cultures."
Outside of Japan House, the name Shozo Sato is synonymous with the long and unique history of kabuki and kabuki-influenced performances in the College of Fine and Applied Arts. Sato trained as a special student of the late kabuki actor Nakamura Kanzaburo XVII, who was a National Treasure of Japan. In 1985, Sato was honored by being officially adopted into the kabuki family of Nakamura. This is remarkable because the art of kabuki is traditionally passed down from father to son and is often inaccessible to those not born into it. When Krannert Center was dedicated in 1969, Sato performed a solo kabuki piece during the opening celebrations. In later years, Sato's innovation in this art form was to apply kabuki performance style to the stories of the Western canon. This original art form resulted in the creation of Illinois Kabuki Theatre. From the 1970s until his retirement in 1992, Sato conceived of, directed, and designed productions that were produced and performed by students in the College of Fine and Applied Arts. In 1991, Sato and students took a production of Achilles: A Kabuki Play to Japan, becoming the first American company to perform kabuki in its originating country. Sato's kabuki productions that began in the College of Fine and Applied Arts have been performed by professional companies and academic institutions around the world to national and international acclaim. Additionally, during the Japanese tour of Achilles: A Kabuki Play, Sato took the students to the village of Damine, where traditional kabuki has been performed for more than 350 years. This visit resulted in a longtime relationship between Damine and Krannert Center for the Performing Arts, and the villagers have come to campus multiple times to perform kabuki.
Shozo Sato's black ink and watercolor paintings have been shown in multiple galleries and museums. In addition to his own artistic body of work, Sato has published many books on various traditional Japanese arts. The impact of Shozo Sato's art and his promotion and advocacy of Japanese culture have resulted in honors including a Joseph Jefferson Award (Chicago), a San Francisco Bay Area Theatre Critics Circle Award, a Hollywood Drama Guild Award, a Vita Award (South Africa), Baltimore Sun awards for directing and design, and the Critic's Choice for Best Director at the Cairo International Experimental Theatre Festival. He has also been the recipient of the Sidney R. Yates Arts Advocacy Award by the Illinois Arts Alliance Foundation and a Certificate of Commendation for his promotion of Japanese culture throughout the world from the Japanese minister of foreign affairs.
In recognition of his life's work, Shozo Sato received the Order of the Sacred Treasure with Rosette from the emperor of Japan in 2004. Sato has also received an honorary Doctorate in Humane Letters from Towson University and an honorary Doctorate in Fine Arts from the University of Illinois.
Generations of students know Shozo Sato as Sensei, and to this day he teaches and inspires though classes at Japan House. To learn from Sensei goes far beyond the artistic form one is trying to grasp. When students take a class from Sensei, they also learn Zen teachings and history and often come away with a better understanding of themselves and their role in this world. Sensei teaches in a way that is supportive, yet challenging, which allows students to accomplish more than they thought possible and provides motivation for them to continue to grow after they leave the classroom. The impact of Sato's teaching is affirmed by the number of students from the 1960s to the present who maintain connections to him and Japan House.
Generous gifts from Shozo and Alice Sato and Sato's brother-in-law, Dr. George Ogura, will fund the Ogura/Sato Japan House Annex and established the charitable annuity for its support and maintenance. These gifts are making it possible for Japan House to increase its impact on campus and in the community. The annex will allow an expansion of programming and classes and will include an accessible tearoom so that everyone, regardless of physical ability, will have the opportunity to experience Japanese tea ceremony and other traditional arts. These kind gifts ensure that Shozo Sato's legacy will continue in the College of Fine and Applied Arts for many years to come.