Sojung Lim
MFA in Dance, Class of 2024
Share a little bit about why you chose UIUC/FAA for your graduate degree.
I chose to come to Dance at Illinois for four reasons:
Openness to international students, with financial support including assistantship, fellowship, and scholarship. (This was the most important thing, coming from South Korea, where few programs in dance offer this opportunity for foreign students.)
Dance Department vision and their strong network in the dance world. Furthermore, distinguished faculty members with impressive research credentials and works support students' multiple scopes in "active" transnationality and diversity in dance.
Choreographic research in interdisciplinary space and facility.
Environment conducive to the development of pedagogical practice and professional development. I thought that the UIUC Dance graduate program could be a great fit with my research interests, which investigate how complicated lives with constant discomfort can be manifested and translated through dance.
What has been a highlight of your grad school experience so far?
The program at Dance at Illinois has challenged me to discover my own voice in my dance research and grow as an all-around artist. Seeing myself not just as a student but as a "fellow" has been fascinating. It has enriched my creative practice while respecting my authenticity and independence as an artist, researcher, and educator. I am convinced that this derives from the social interaction with my cohorts, and the professors, and the constant support and advice for one another in individual curiosity and artistry. Like a family. I feel like here is my second home.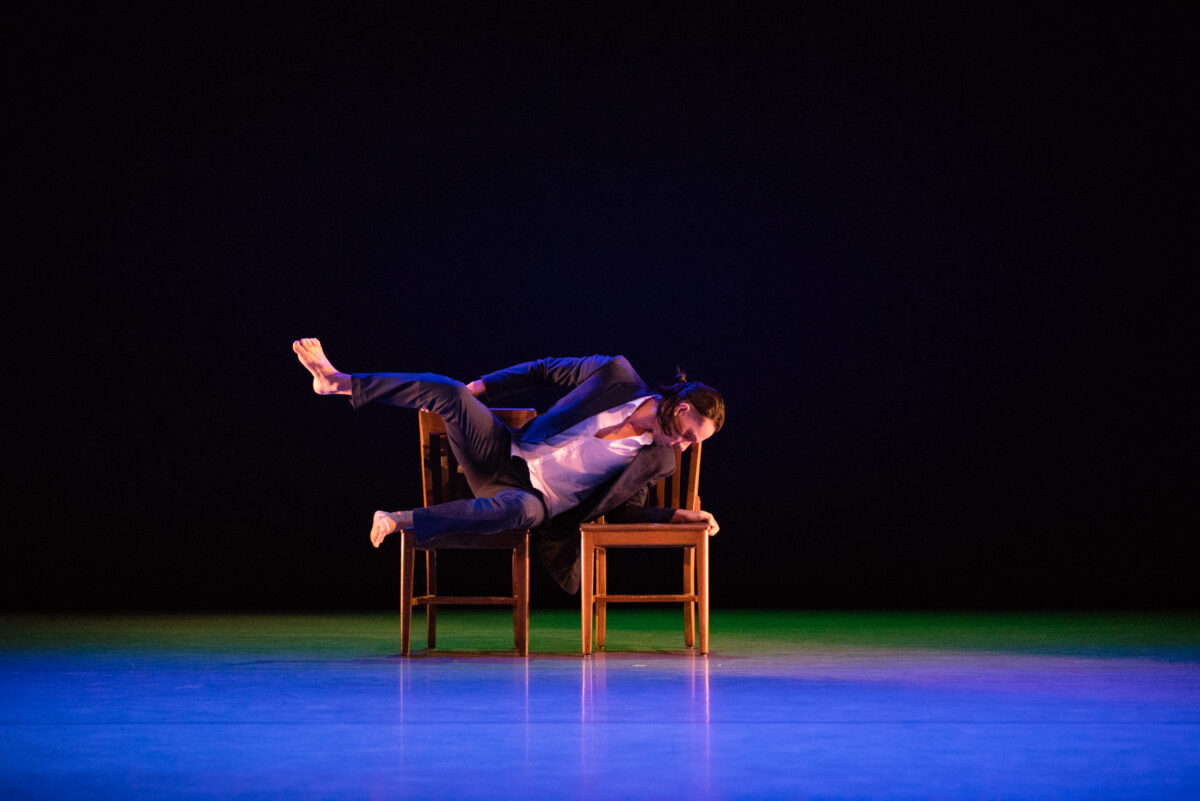 more questions
Share a little about a special project you have worked on.
This piece of work, called Two Chairs, was from my second-year choreographic project. I presented it last year at October Dance 2022 along with the new works of distinguished dance department professors. Two Chairs was my first solo dance choreography, and it gave me a great opportunity to work with a professional theater production company from the Krannert Center for Performing Arts. Through this work, I practiced my research with mentors from the dance department, learning from them and refining my creative process in dance. I discovered my strong movement vocabulary and how I translate my own expression to another body, believing in my ability and instinct to compose dance as an "empowering choreographer."
What is your favorite space on campus and why?
Elliot Reza Emadian's office in the dance administration building. Their office is my favorite space on campus. They have candies that always make my day!
What advice would you give students interested in attending your grad program?
Graduate school can be an incredibly challenging, but also rewarding experience. It is the best time to discover and explore your artistic inclinations in a safe space. Make the best out of this time, proactively reach out to fellow students and professors, and make use of the school's vast resources and network!