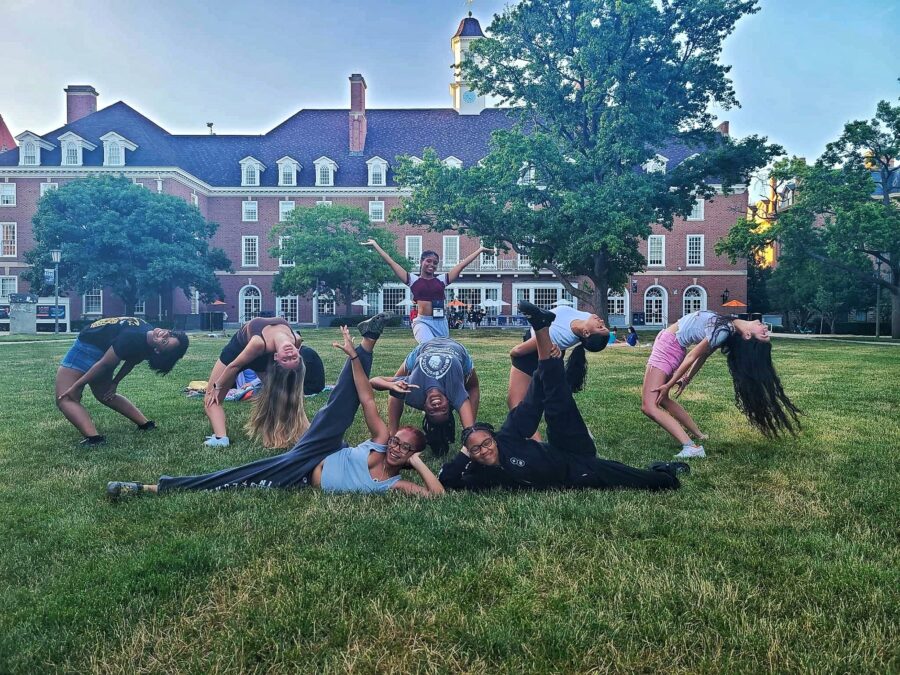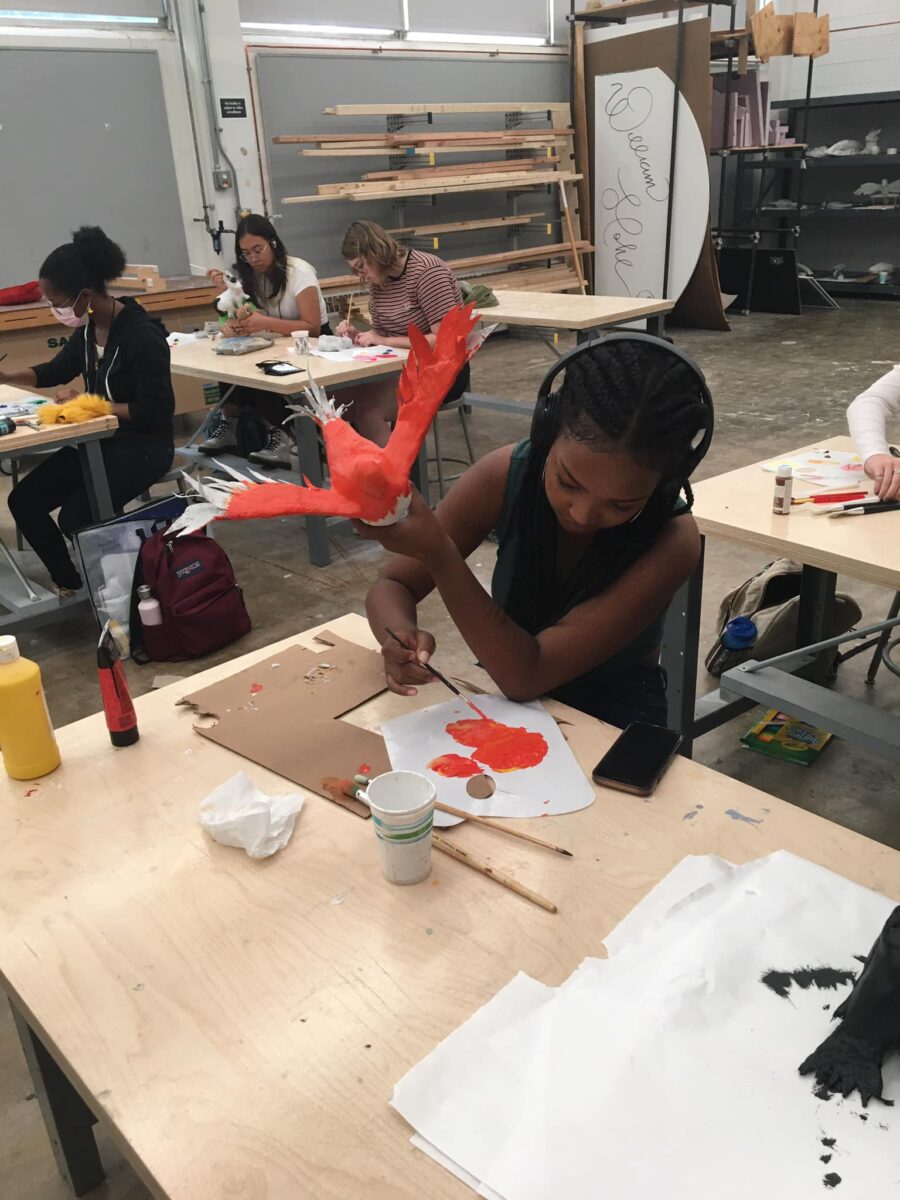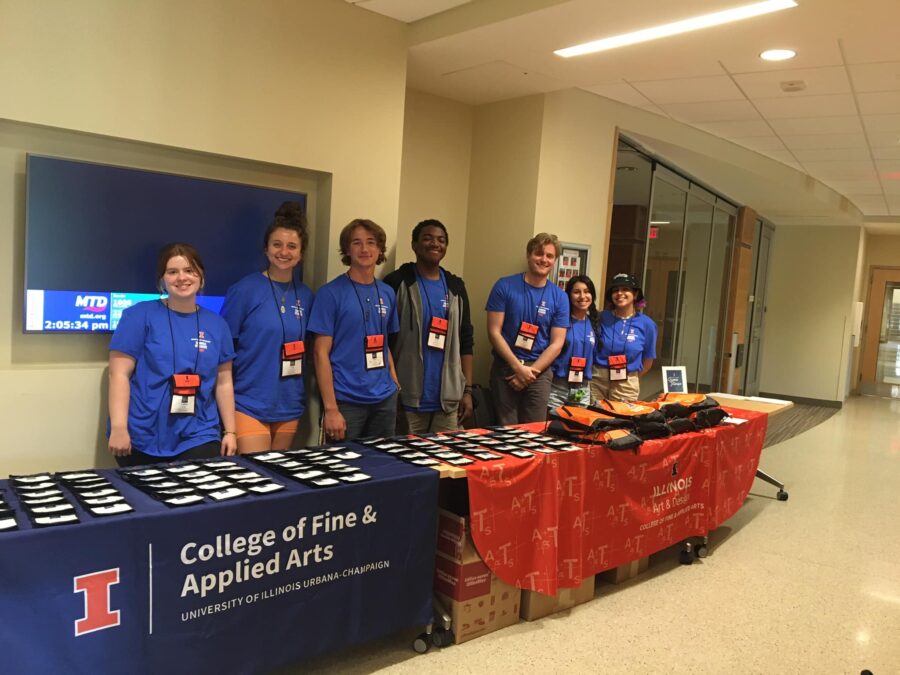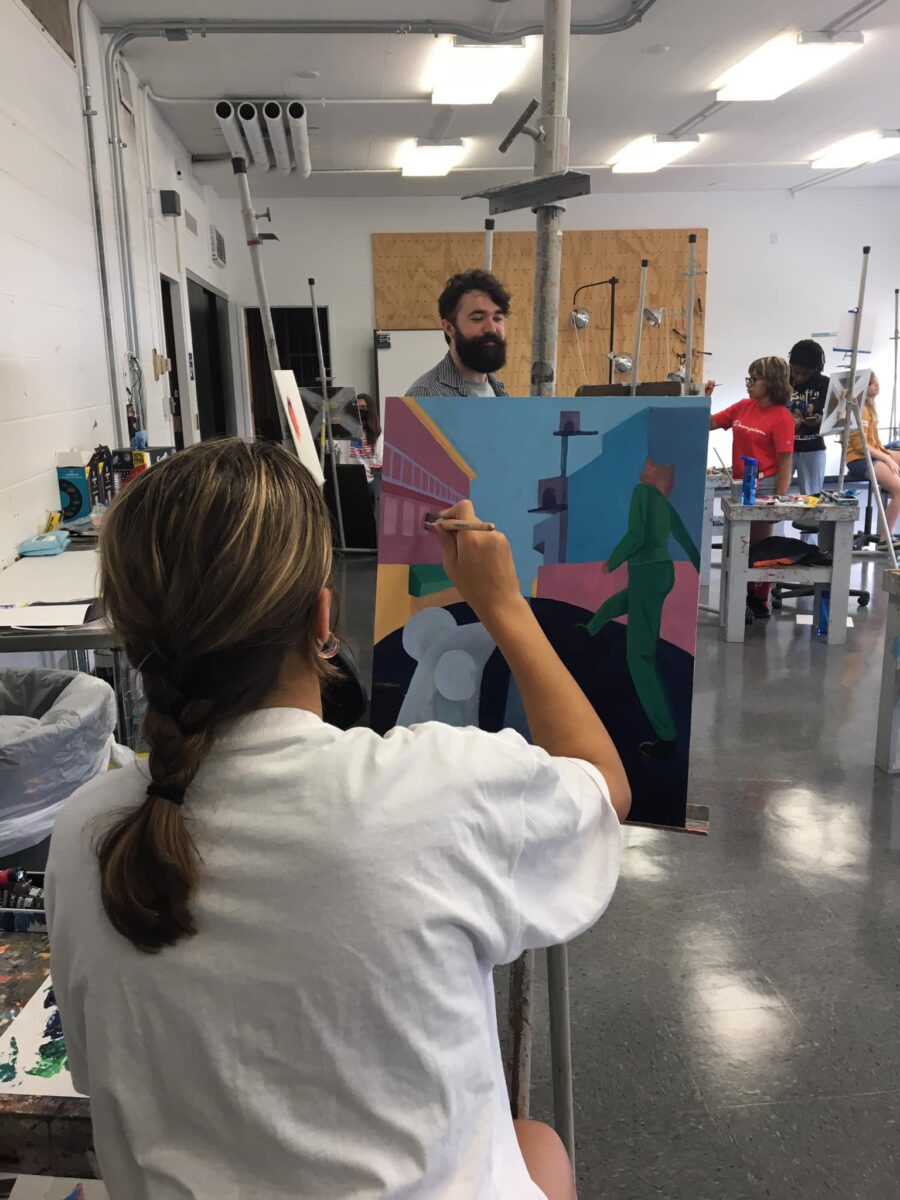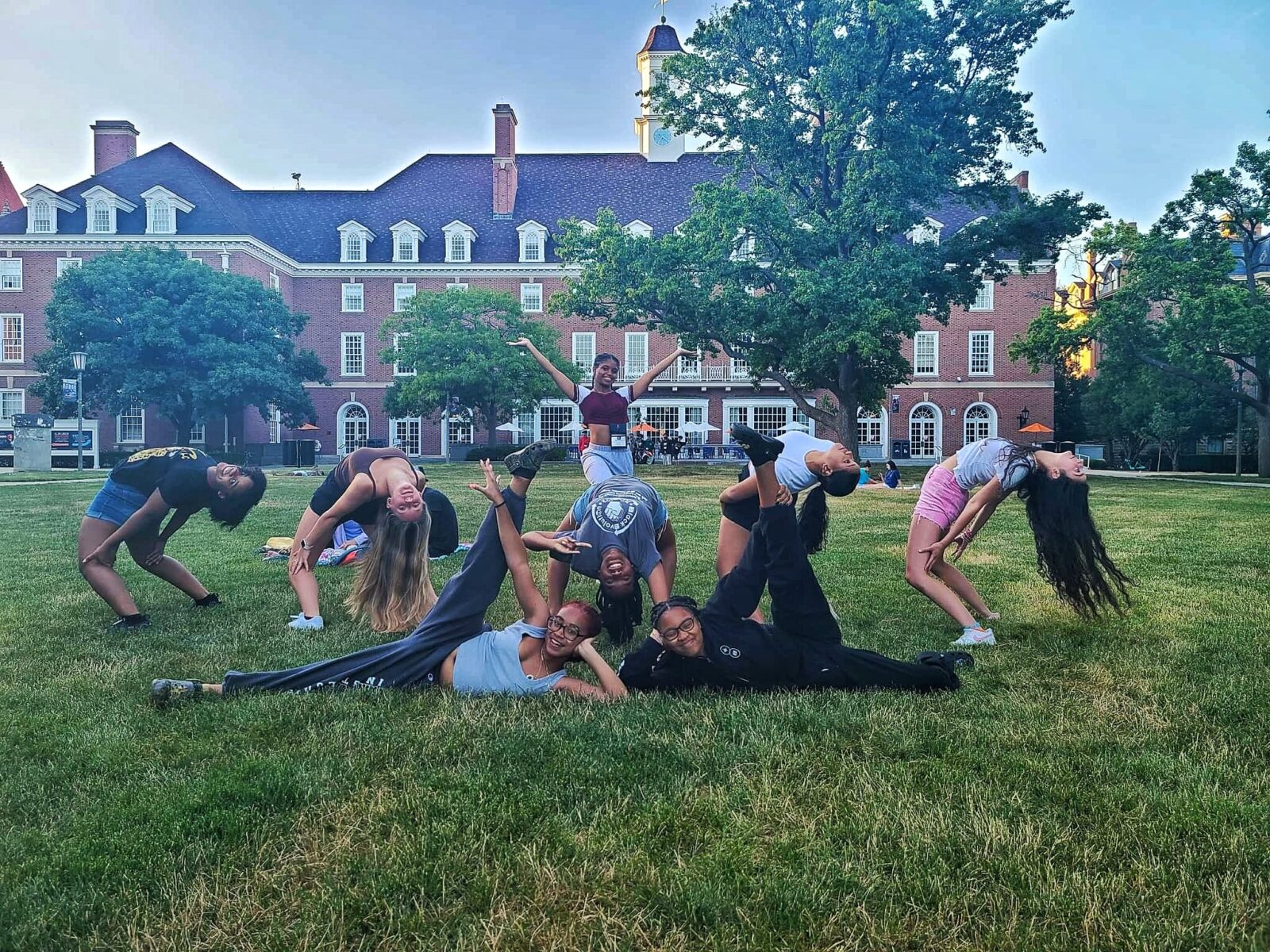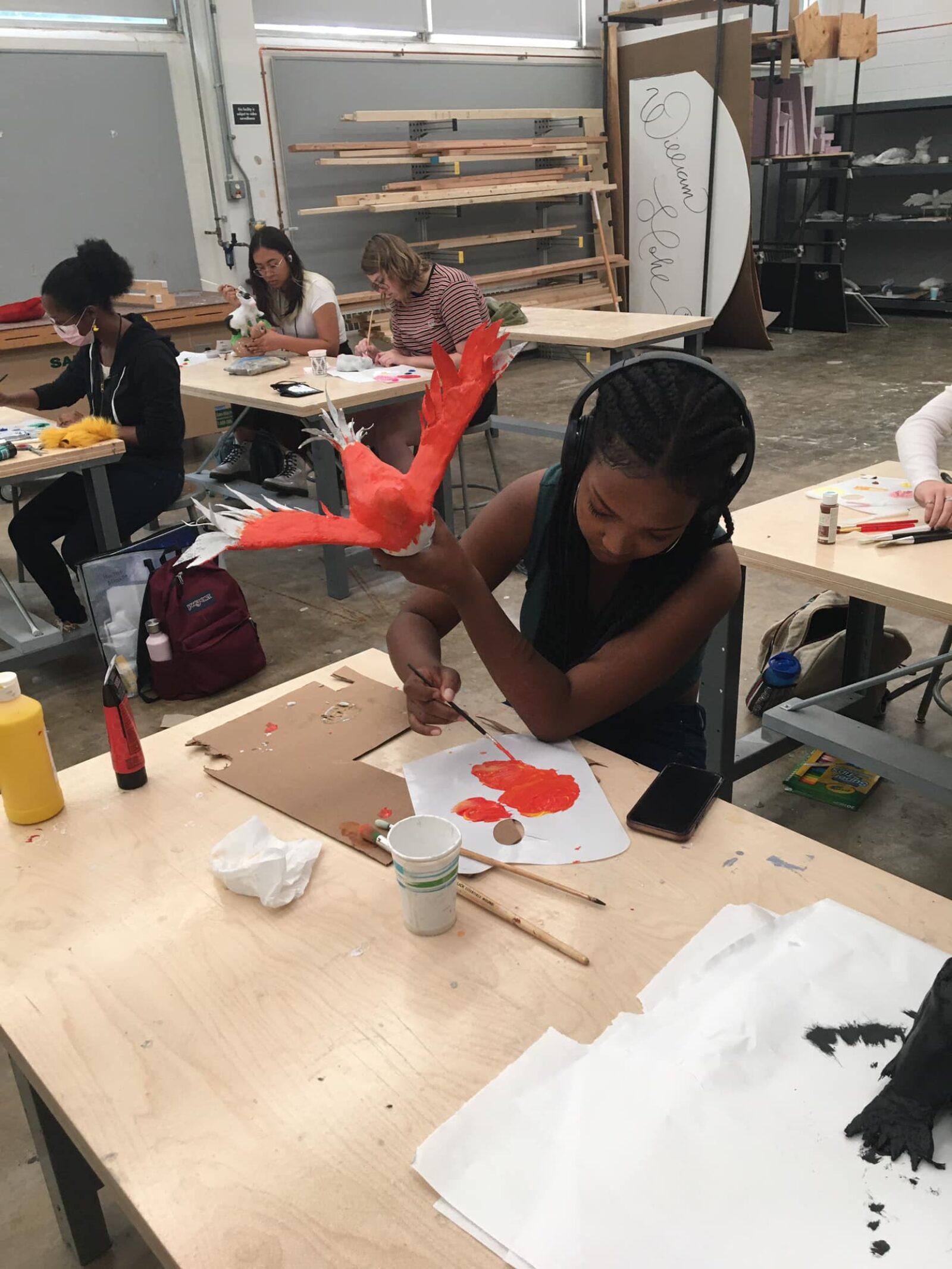 Summer Intensive 2022
Summer Intensive 2023
June 25–July 1, 2023
At this immersive program, each high school student selects a track for the week. Students stay in our state-of-the-art residence halls, and the tracks run from 9:00 a.m. to 4:00 p.m. Monday–Friday. Current College of Fine and Applied Arts faculty members, graduate students, and recent FAA alumni teach classes. Participants also join in evening activities such as bowling, watching movies on the Quad, exploring campus, swimming, scavenger hunts, trips to museums, and more. All art and design tracks include a special session at Japan House.
Apply by May 1, 2023, for full consideration. The application fee is $50, and we encourage you to apply early since space is limited.
Apply
Inspiration Board
FAA Summer Intensive Tracks
FAA Summer Intensive Tracks
Acting
Acting & Improv
Students will participate in rigorous acting, voice and speech, movement, and scene study classes to learn the art of acting for the stage. Students will also explore improvisation and learn techniques through coaching and warm-up exercises that will build confidence and improve theatrical performance skills.
Dance Intensive
African Dance, Ballet, Hip-Hop & Modern Dance
In this track, teens will join the faculty and students of one of the strongest and oldest dance programs in the country. Students will be immersed in intense technical training in various forms and styles including African dance, ballet, hip-hop, and modern dance.
Graphic Design
Graphic design is a process, not just a result. In this week-long design track, students will learn about graphic design principles and processes while also putting this foundational knowledge into practice, designing a custom project using Adobe Illustrator. This track will include special programming by Japan House.
Studio Art: Comic Art
My World of Comics
In this week-long comic-making class, we will explore some basic comic skills. Each day we will focus on one to two fundamental elements of the craft: writing, drawing, inking, coloring, lettering, prepress, and printing. We will also have guest speakers. This will be an exciting class for all skill levels. Let's have fun making comics together. This track will include special programming by Japan House.
Studio Art: Painting & Drawing
This high-energy studio class will explore concrete painting and drawing strategies. This will enable students to communicate competently in these disciplines. Students can expect a hands-on environment with real-time examples and individual feedback. Foundational principles and traditional art media will be implemented. The curriculum will offer opportunities for individual perspectives and creativity. Special topics in the course will include representational drawing, portraiture, paint handling, color theory, and visual design. This track will include special programming by Japan House.
Studio Art: Sculpture
This track will cover hand-building sculpture techniques in clay. In addition to discovering the sculptural possibilities of this material, we will explore surface through texture and color. Over the course of the week, students will make small clay sculptures that respond to a thematic prompt and will leave the intensive with a finished piece. This track will include special programming by Japan House.
Theatre Tech & Design
Theatrical Design, Technology & Management
Get a behind-the-scenes backstage experience offered by the Illinois Department of Theatre. Students will explore what it means to work as a designer, technician, or manager in the theatrical world. Discover the techniques needed to successfully put up a show and gain hands-on experience in a variety of backstage areas such as scenic design, lighting design, theatre technology, and stage management.
Please note: Course descriptions are subject to change. Courses may have additional course fees or required supplies.
Other Features
Portfolio Counseling
Students are encouraged to bring their portfolios for informal feedback from Summer Intensive instructors and FAA faculty members.
Audition & Portfolio Tips
Faculty and staff members from the School of Art and Design, the Department of Dance, and the Department of Theatre will offer sessions focused on portfolio tips and audition preparation.
Instruction
Current FAA faculty members and graduate students will teach all the tracks. These enthusiastic artists and educators are dedicated to providing a profoundly satisfying experience that represents what it's like to live, work, and study at Illinois.
Housing & Meals
Students staying on campus during the FAA Summer Intensive will spend the week in shared rooms in University of Illinois residence halls. Each room is furnished with beds, desks, and dressers. Students must provide their own linens and will have access to laundry facilities. Housing is staffed and supervised by resident advisors and FAA Summer Intensive counselors. The FAA Summer Intensive has a 10:1 student-to-counselor ratio in the residence halls. Resident advisors are currently enrolled University of Illinois students trained in community building, problem solving, and emergency procedures.
Those staying in the residence halls are automatically enrolled in a plan that includes three meals per day served in the dining halls. Commuter students are automatically enrolled in a meal plan that includes Sunday dinner and lunch and dinner only Monday–Friday.
A nightly room check of 10 p.m. is strictly enforced.
Fees
Program deposit with application: $50 (nonrefundable)
Residential program fee: $800 (includes instruction, housing, and meals)
Commuter program fee: $500 (includes instruction plus Sunday dinner and lunch and dinner Monday–Friday)
Additional Expenses
Course Supplies
Upon acceptance, students may receive a course supply list. Supply costs range from $20 to $60 and vary by course.
Spending Money
Although it's not required, a student may appreciate having access to $50 in spending money for the week on campus. Teens especially enjoy shopping at the Illini Union Bookstore for Illinois attire.
Applying
Eligibility
Students must have completed their freshman, sophomore, or junior year of high school by summer 2023. Teens at all ability levels are invited to apply.
Placement
Early application to the program is encouraged, as students are placed in tracks on a first-come, first-served basis. Although every effort will be made to assign applicants to their first or second choices, placements cannot be guaranteed.
Application Process
The application deadline is May 1, 2023. Applications will be accepted after May 1 if space is available. The $50 application fee must accompany the application to secure space in classes.
International students must prove competency in the English language at the time of application by submitting TOEFL, TOEIC, or IELTS scores or a supporting letter from a school counselor or English teacher.
Applicants will be notified of their admission status on a rolling basis beginning in April 2023 and will be assigned to their track on a first-come, first-served basis.
Submit the program fee no later than May 15, 2023, unless otherwise approved. Any accepted student who has not paid the program fee by May 15 will be dropped from all courses. Contact Brenda Williams-Cannon (wllmscn2@illinois.edu) to create a payment plan.
Apply
Policies
COVID-19 Policy
All University of Illinois at Urbana-Champaign summer programs must adhere to COVID-19 operating and safety protocols.
Refund Policy
All withdrawals must be requested in writing. The postmark date or email date will be honored as the withdrawal date.
Withdrawal before May 20, 2023: 100 percent refund minus $50 nonrefundable application fee
Withdrawal after May 20, 2023: 50 percent refund minus $50 nonrefundable application fee
Withdrawal after June 1, 2023: No refund
If a student is asked to leave the program for violations of school policies or regulations, no refund will be issued.