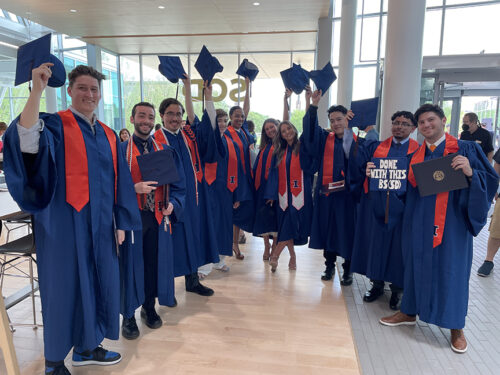 Graduation details
Be sure to complete all the steps on this checklist during the semester you intend to graduate. Download the FAA commencement guide for more information and to find contact information for your unit's convocation ceremony.
You must notify FAA of your intent to graduate by adding yourself to the graduation list no later than the tenth day of classes. Visit Self-Service and click the "Graduation" tab.
Check your degree audit report to determine if you have met all requirements. Contact your academic advisor or the FAA Office of Undergraduate Academic Affairs if you have questions or concerns.
The university-wide commencement ceremony and your unit's convocation ceremony are handled separately. Make sure that you sign up for both events if you'd like to attend them both.

Note: Bachelor's degree candidates with 13 or fewer hours left to complete and who expect to finish in August may participate in the commencement ceremony held in May. Their names will not appear in the printed university-wide commencement program until the following May.

Be sure to check and update the diploma address information in Self-Service as needed.
For details about graduation activities, see the Commencement at Illinois website.
For questions about your diploma, see the information from the Office of the Registrar.